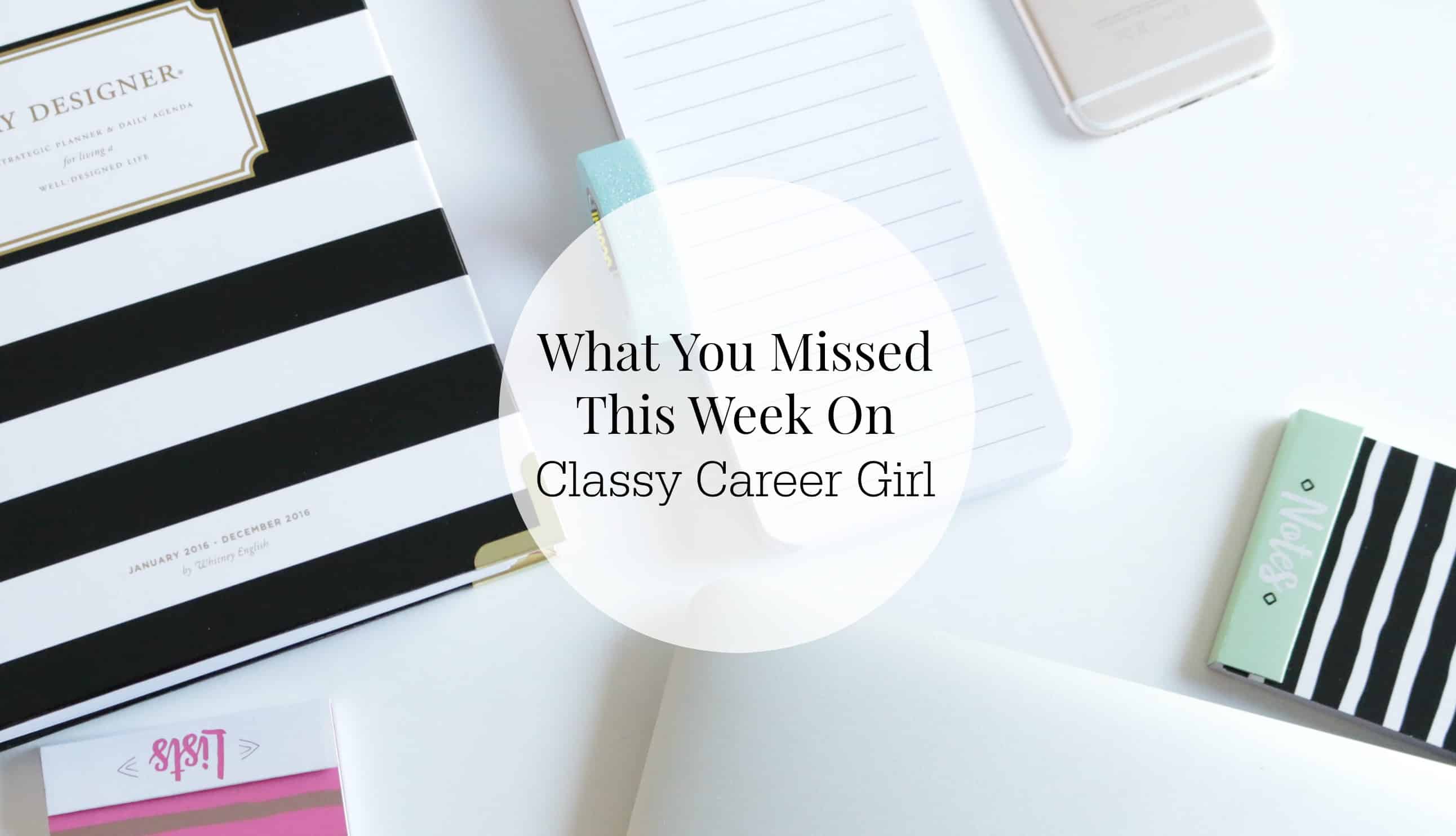 29
May
Happy weekend! Time to get caught up on what you missed this week and do a little learning to get one step closer to making your dream life happen this weekend! What you'll learn will increase your chances of getting hired and don't miss our 10 best books recommended by our classy career ladies, and so much more!  So, what are you waiting for? Read on.
Here are what you missed this week on Classy Career Girl:
Most of us already have an idea about what our dream job would be. We're hustling and working hard towards that dream job as best we can and doing everything we know to get hired. No matter what industry your dream job is in, there are some common factors which dramatically increase your chances of getting hired. If you want your dream job as soon as possible, let's cover some steps you can take right now.
What book made the biggest impact on your life?
That's the question I asked recently in our free private Facebook group, Love Your Work and Life Ladies. In case you missed it, we've listed the top 10 books the ladies in the CCG community shared that made the biggest impact on their lives. I'm sure one or many of these will also make an impact in your life if you read them. Here they are in random order!
Big news: We've partnered with Zenni Optical and to give away a gift card for one pair of beautiful glasses up to $150. We are partnering with them to get the message out that women leaders are everywhere inspiring us to succeed and reach our potential. Often, those women sit next to us at work, have served us meals for years (thanks mom!) or even authored a book that we read that changed the direction of our lives.
The endless search for work-life balance continues to elude many struggling professionals. Your day begins with 24 hours of opportunity, but take into account 8.5 hours for a good night's sleep and your average working day, this is no longer true. In fact, when many of us also commute for up to 2 hours each day it can come as no surprise we find it difficult to maintain other commitments.
We're constantly told that we can have it all. By that, I mean career, relationship, family, and fun. And it's true, we've never had more choices. It's all up for grabs but anyone with a career knows that in reality, it's not always that simple.
Here's How To Finally Land Your Dream Teaching Job
We know. The job market for teachers is not the easiest. Even though it's one of the most important jobs on the planet and we trust our local teachers to train and teach our future leaders of tomorrow, it's hard to get a job. Nothing beats having a rewarding career that you love sharing your knowledge with children who are excited to learn and grow up to be astronauts and doctors. Sadly, if you're not already in that position, the first step can feel like the most daunting of all. But it doesn't have to be. With the right advice, your dream teaching job is just a few short steps away.
How I Uncluttered My Work and Life
When you have a disorganized office and home, it can tell others around you that you are an ineffective worker. Not only that, but you probably feel ineffective when your office is a mess and it's draining the energy you need to do your job well. Overall, a messy office can derail your career and your life.
Hey everyone! I wanted to stop and share some business startup success stories! My
Corporate Rescue Plan

clients are knocking it out of the park these days!
Latest posts by Lor Mancera
(see all)