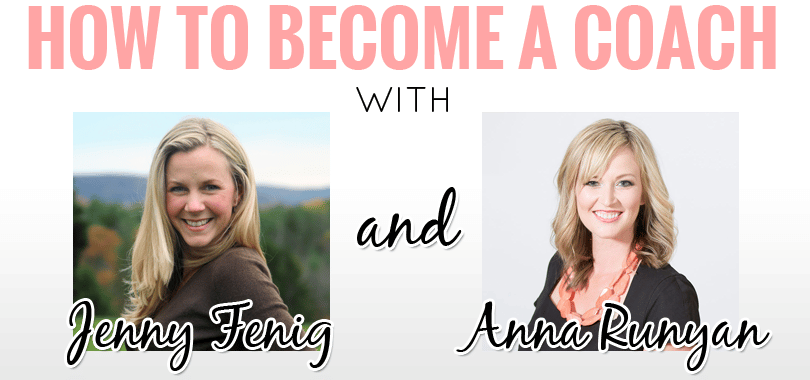 02
Feb
I am BEYOND thrilled to bring you the recording of my interview with Jenny Fenig all about how to become a coach.
I asked her all the questions I keep getting about whether certification is necessary and how to get your first clients, etc. It was so wonderful and I loved everything she shared. We are both on the same page with so many things.
(We had a little technical difficulty right in the beginning but just be patient until Jenny puts on her headphones!)
I even shared during the interview that I wish she would have had her Get Gutsy Coach Training School available when I was getting started in coaching 5 years ago. It would have saved me YEARS of work and figuring things out all by myself.
Because, here's the deal…Jenny combines the practical pieces of becoming a great coach like mindset, confidence and handling difficult clients WITH the business of becoming a coach like online marketing, processes and systems.
Because let's face it, you can't be a great coach if you don't know how to get clients, right?
Jenny's strategies have impacted me so much as a working mother and coach. Her time management resources were pivotal in helping me balance the tremendous growth of my business and raise my daughter as a happy and fulfilled mom over this last year. She's the real deal.
As you know, I only share with you the best of the best.
If you decide to join Jenny's coach training program, I will make a commission but I only endorse programs that I 100% believe in and have been impacted by in the past as well. Jenny has been a huge mentor of mine and I know she can help you create a coaching business you love just like I have.
If Jenny's 

Get Gutsy Coach Training School

 sounds like it might be a good fit for you, let me know so I can discuss it personally with you. Just hit reply to this email. I am also offering 2 individual coaching bonuses and Jenny is giving $1000 off to friends of CCG!
Imagine … earning a great living doing the work you were put on this planet to do, working with clients you adore all over the world by phone, Skype or in person (locally or in exotic destinations around the globe).
It's not a pipe dream. It's very real. I've done it with Jenny's help and so can you.
Love,
Anna
P.S. Jenny's program is only open for 5 more days. She only does this once a year so don't miss your 2016 chance! And something really cool, Jenny is giving $1000 off to friends of CCG! Learn more here.

Latest posts by Anna Runyan
(see all)